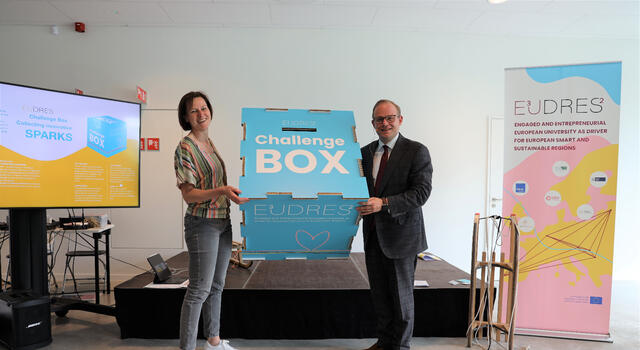 CHALLENGE BOX UCLL AND VKW LIMBURG CONNECTS STUDENTS AND BUSINESSES
On Tuesday 26 April, UCLL and VKW Limburg, the leading Limburg employers' association, jointly launched the Limburg Challenge Box. Together they are looking for 12 companies or organisations who want to innovate together with students. Interested companies can apply until 30 May. After selection of the challenges, the I Living Labs with students will start in September. 
The benefit is threefold: companies can make free use of recent knowledge of students, an international network of research and education and expertise from various disciplines. On top of that, they also get the chance to get to know committed students, who in turn are eager to give their careers an interesting start. But the Limburg region also benefits from this initiative. SMEs, start-ups, local authorities, NPOs,... any organisation can participate. And organisations that innovate immediately give a boost to an entire region.
Unique about this initiative is that we do not remain within the boundaries of our university or our region, but that we act as a link across national borders.
UCLL can count on international partners from the E3UDRES2 project: this means that the expertise of more than 40,000 students, researchers and teachers from Austria, Hungary, Latvia, Portugal and Romania can be used to meet all challenges. Ruben Lemmens, delegated manager VKW Limburg: ''Every initiative where education and the professional field are brought together has our attention. Both students and entrepreneurs benefit from this. But if this can also be done on a European level, then Limburg can really score and benefit from this gigantic source of knowledge and innovation''.
Today, some six hundred students are already actively involved in many wicked problems. Roger Heijmans of UCLL: "We are currently in the ideation phase. Our students are unravelling the challenges and generating ideas and solutions. They do this in very close consultation with companies and organisations. An example is the Talent Gardening in collaboration with ABN Cleanrooms.  A lot of SMEs struggle to get the right talent in the right place. Students devised an app that uses gamification to get the right person in the right place. This can be a huge help for any HR policy. But we can also expect interesting ideas in the field of mental well-being and sustainability'.
Would you, as an entrepreneur, like to put forward an idea or challenge that you don't know what to do with? And would you like to present it to an international team of students, researchers and education professionals? Then please contact Roger Heijmans at roger.heijmans@ucll.be.