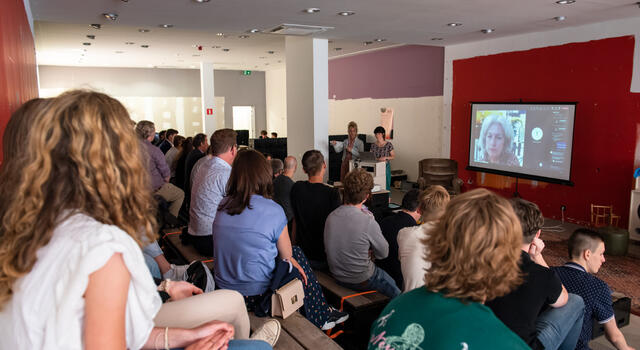 Wanderful.Stream @ Hasselt
Circular living means much more than the re-use of raw materials. On the way to a circular society, it is important that we get everyone on board. We do this through our projects, among other things: as a knowledge institution, we strive to call this our task. At the crossroads between sustainability and didactics, we aim to bring smiles to many faces.
In Circulair Werkt, the circular hub in Hasselt, students from Level X in Hasselt, IKSO in Hoeselt, Mosa-RT Maaseik and Campus De Helix Maasmechelen presented their projects. The students worked on the reuse of whey - you know, the liquid on your yoghurt - and backpacks made of residual flows with solar cells. In this way, they aim to produce beer, gin, bio-ethanol and sports drinks, among other things.
They do this under the expert guidance of Sara Gilissen, Erica Andreotti, Jelle Van Campenhout and Peter Van Hout, UCLL Research & Expertise specialists on sustainability and circularity, and Angelo Vermeulen, who combines space travel with architecture and design trough his work. Didactics, vision and courage are used to stimulate the inventors of tomorrow.
This cooperation is part of Wanderful.Stream. This is a large project with European support. Together with strong partners, residual streams are mapped, different disciplines are involved and we go in search of new circular models and products.