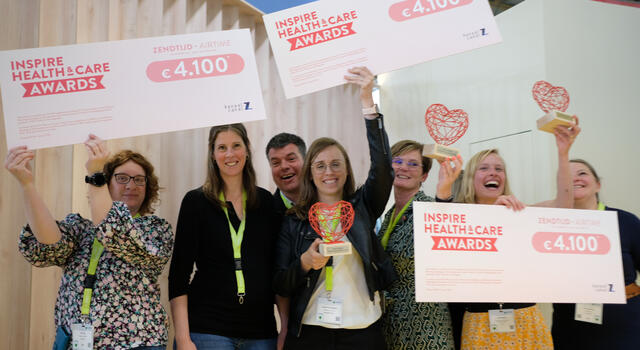 UCLL @ Inspire Health & Care: 3 awards
With its eight centres of expertise, the University of Moving Minds is active in various sectors. At the intersection of healthcare and digitisation, there is great innovation potential. That is why our researchers strive for practice-oriented solutions to support care workers. What do you think of digital tools for people with dementia, a serious game to support primary care or a VR tool for suicide prevention?
A number of hot topics in the sector require solutions that are easily accessible and quickly deployable. Our expertise centres Health Innovation and Digital Solutions therefore keep their finger on the pulse. They do so by maintaining close contact with internship companies, students in post-graduate courses and through cooperation with partners in the context of - often international - projects.
A number of our achievements were also presented to the general public within the framework of the Health & Care awards. The VR tool for suicide prevention that was developed in collaboration with VLESP and LOSS, our e-learning tool on loneliness that our students from the health programme realised together with our researchers and the people of Ziekenhuis Oost-Limburg, were nominated for the 'Innovation' and 'Tools' awards by the jury. Both projects won in their respective categories, with LOSS also winning the public award.  
On 26, 27 and 28 April 2022, they presented four products and innovations at the Inspire Health & Care fair in Flanders Expo in Ghent. Do you want to know more and, who knows, maybe work with us?